You know how busy you are? Pretty busy, right? Like, unfairly so. Dhs10 says Morfydd Clark is even busier.

The seriously fast-rising Welsh actress has been on TV in Dracula and His Dark Materials recently, has acclaimed horror film Saint Maud under her belt already in 2020 while drama Eternal Beauty is on the horizon.

She'll also be hitting cinema screens in May in The Personal History of David Copperfield, in not one, but two roles, and she's already started work in New Zealand on Amazon's take on The Lord of the Rings in a role strongly rumoured to be a young Galadriel (she can neither confirm or deny this).

She probably deserves a lie-in, which is why our 7am phone call seems a little unfair.


Is there a trick to pronouncing your first name properly?
It's very hard. [Rolling her Rs] It's Morrr-viff. People do often get it wrong, but I appreciate their effort.
How does it feel to be having a serious moment?
Very surreal but because I'm in New Zealand, I feel a bit detached from it – in a nice way. My sister [in London] just messaged me and said, "Your poster is on the tube!" It feels like it's not actually happening to me. But it's very exciting.
When do you have time to do all these projects?
I'd travel overnight to Cardiff to do Eternal Beauty and then come back to do David Copperfield and then go back to Cardiff for His Dark Materials. Then there was a bit of a gap before Saint Maud. But that was the most exciting time for me. I was like [puts on a diva voice], "Oh my gosh! I'm in demand!" There was one day when a car drove me back to London and I had a contact lens stuck behind my eye from Eternal Beauty and I was thinking: these are the problems that I want.
You play two roles in The Personal History of David Copperfieldd. How did that come about?
I auditioned for Dora and then I had lunch with Armando Iannucci and really casually he said, "Oh, we'd like you to play Clara as well." I basically screamed for the rest of the lunch. It was one of the best summers ever. I couldn't believe who I was on set with every day – I'm obsessed with Hugh Laurie. Dev [Patel] is like David Copperfield in real life, so him being at the helm created a really lovely atmosphere.
You have a lot of scenes with Jip, Dora's dog. Did you develop a bond?
It was great, she was constantly upstaging me. I kept thinking I'd made everyone laugh and they'd be like: "Jip was hilarious!" She was a rescue called Scampi.
Saint Maud is a very distinctive film. How do you describe it to people?
It's a horror about loneliness. I didn't do anything 'Method' on it but I'd get sad at the end of the shooting day. Because of the loneliness thing, I became super-aware of anyone with maudlin feelings. I'd come back to London and think, "Oh, everyone's alone!" Doing that and David Copperfield made me want to be nicer to everyone.
Eternal Beauty and The Personal History of David Copperfield also touch on mental health. Is it something that resonates with you?
Yes, it does. I have a connection with it – as I think everyone does, really. That's why it's so important. People are starting to accept that everyone is affected by it in some way and it's something we all need to be responsible for. That's what I got from Eternal Beauty – that we're not islands.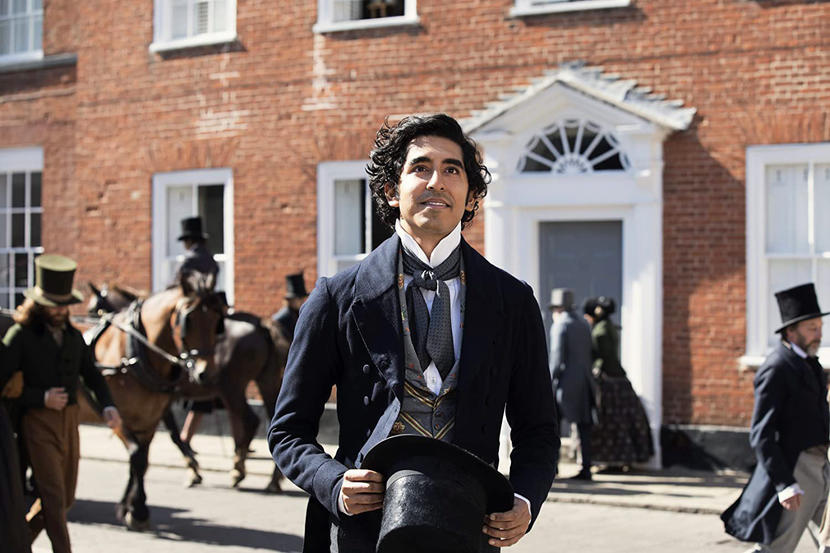 Have you managed to sneak a holiday in somewhere?
Well, I like a staycation. I like just being in my house and my friends coming to me. I'm not good at arranging a holiday, but I've chilled out, for sure. Being in The Lord of the Rings is forcing me to get out of my little world and go places. I'm still waking up in New Zealand and thinking that I'm hallucinating.
What can you say about it?
Well, it's based in the Second Age and... that's probably it [laughs]. You're welcome!
How was the audition process?
There were six auditions. It felt like it could go on forever. I don't get too nervous for auditions, but I get so embarrassed by myself – that's more about my chat than my acting. But I could feel like I was in the ballpark for this and that was kind of comforting.
How did you celebrate the news?
I was about to go into the David Copperfield premiere in Toronto when I found out. I was getting my make-up done in my hotel room and the phone rang and it was all really surreal. That day was so weird. Luckily, my sister was there being like, "This is real! It's happening".
Tolkien's Elvish was influenced by Welsh. Has your native tongue been handy on set?
Oh, definitely. People ask me how to say words and I feel really smug. I read The Hobbit when I was at school and I remember my mum telling me every day that Elvish was based on Welsh. I was like, "I know! You told me already."
Have you visited Weta, where they made the Rings films, while you've been there?
I went there and it's unbelievable. My 12-year-old self and my current self were both freaking out. I went to the workshop and saw lots of the old The Lord of the Rings costumes and held a few swords. It was amazing.
Where did you grow up?
I grew up in a town just outside Cardiff. We filmed Eternal Beauty in my town. If I forgot something, my mum would cycle over and bring it to me. I regressed.
What was your first ever acting role?
I was in Under Milk Wood when I was 13, and I played Mrs. Dai Bread Two. It was so much fun. I still didn't think of myself as ever being an actor then, because that seemed just ridiculous, but that's when I realised that I liked doing it.
Was acting what you wanted to do from then on?
I was a miserable teenager – I didn't do well at school and I really didn't feel I could ever be an actor. But later my mum got me to audition for drama school. I got in and slowly my confidence grew. I'm living beyond my wildest dreams a million times right now.
Who were you acting heroes growing up?
I always loved David Threlfall because I loved Shameless – I wanted to be like him. Tilda Swinton and Penelope Wilson, too. Shaun of the Dead is one of my favourite things. I'm quite fickle with my acting heroes: I see someone and I'm like, "I love them!" and then I move on.
One of your first roles was in The Falling with Florence Pugh and Maisie Williams. Do you keep in touch?
We're all still in touch on Instagram. It was a first job for loads of us – me and Florence and for all the girls, apart from Maisie. I told Florence that one day she'd be nominated for an Oscar so I called that one. Carol [Morley, the director] took such a gamble on loads of us. It was a special project, really restorative in a way. Carol really looked after us all and made us feel like we were wonderful and worth something. I feel really grateful for that. I think it really settled me and made me feel like I belonged.
What are you into away from work?
I like climbing and I draw. And I sing a lot with my sister – not to anyone, just us two. She's amazing at the piano and we just sing along together to whatever song we're into at the time. Our current one is a Magnetic Fields song – they're my favourite band. But no one's ever going to see it!
What movie have you seen more than any other?
Groundhog Day and probably the The Two Towers. I went through this really dark phase in year eight when I'd come home and watch it every day after school. I'd be like, "I'm going to straighten my hair and watch The Two Towers – no one talk to me.
The Personal History of David Copperfield is due in cinemas on May 7.
Be the first to get all the latest Sharjah news, reviews and deals into your inbox by signing up to our free
newsletter
,
click here to sign up
.