The coronavirus pandemic may mean that we can't travel literally, but there's still room for some much needed escapism, and what better way to do than to get lost in a good movie?

Staying at home has had many of us reminiscing on past holidays and adventures abroad. But although flicking through old photos can provide a warm feeling of nostalgia, watching a movie all about the wonders of travelling can also fill a tiny piece of that passport-shaped hole in our hearts.

So to help our fellow wanderlusters out there feed their cravings to explore exciting new destinations, we've compiled a list of ten travel flicks to get lost in from the comfort of your sofa.

Amélie, 2001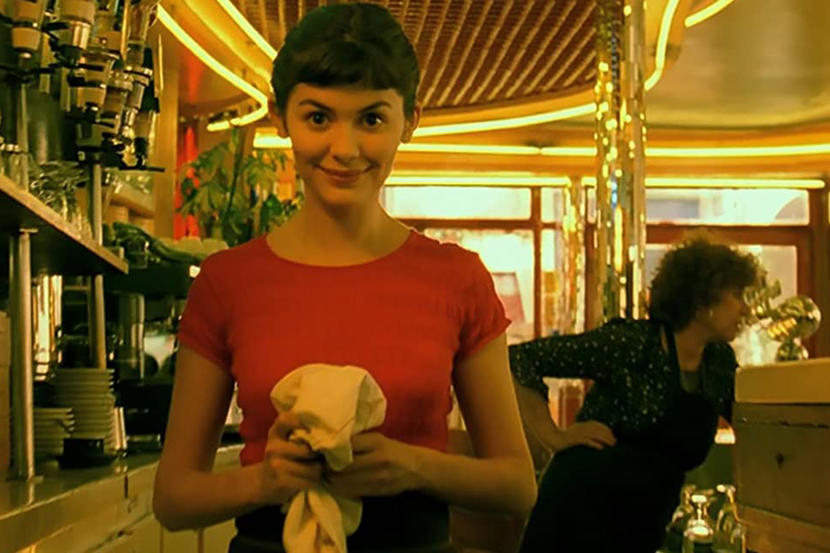 Director: Jean-Pierre Jeunet
Cast: Audrey Tautou, Mattieu Kassovitz
A beautiful example of French cinema at its finest, this classic will transport you to the charming city of Paris and remind you of all its highlights. From Café les Deux Moulin where Amelie works as a waitress, to the famous Canal St. Martin's lock and the iconic Notre Dame Cathedral, the beloved movie will take you on a trip through the French capital.
Available on Netflix.
Eat Pray Love, 2010
Director: Ryan Murpjy
Cast: Julia Roberts, Javier Bardem
Join newly divorced Elizabeth Gilbert (Julia Roberts) on a wonderful journey of self-discovery across the world. First up, she visits Italy where she learns the importance of nourishment by eating all the local Italian cuisine (sidenote: you may want to order a pizza whilst watching). Then she sets off on a trip to India where she is taught the power of prayer before heading to Indonesia where she finds inner peace and true love. It's a ride to remember - even if it is from the comfort of your sofa.
Available on Netflix.
Girls Trip, 2017
Director: Malcolm D. Lee
Cast: Tiffany Haddish, Jada Pinkett Smith, Regina Hall, Queen Latifah
As the title suggests, this hilarious comedy takes you on a girls' trip to remember, as a group of best friends, Ryan, Sasha, Lisa and Dina reunite for a road trip to the annual Essence Festival in New Orleans. While the movie is a hit for many reasons (Tiffany Haddish being a highlight throughout), it also shows off the soulful city of New Orleans, its people and its culture throughout. If you haven't already been, it'll certainly be on your travel bucket list after this.
Available on Netflix
Into The Wild, 2007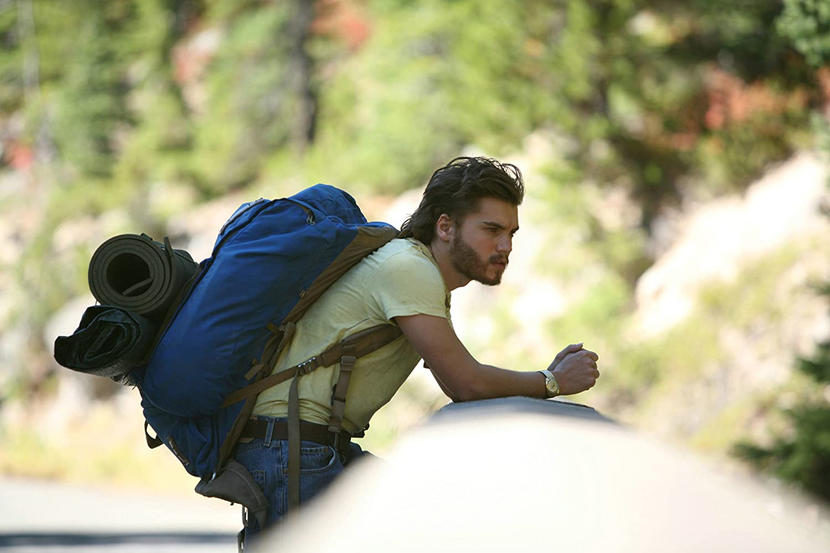 Director: Sean Penn
Cast: Emile Hirsch
This Oscar-nominated adventure film based on a true story takes you to the snowy mountains of Alaska as top graduate and athlete Christopher McCandless gives up his privileged lifestyle and sets off on a hitchhike across America. As you can expect, he encounters several things along the way that change him forever. Get inspired and enjoy the beautiful landmarks.
Available on Amazon Prime.
Lost in Translation, 2003
Director: Sophia Coppola
Cast: Bill Murray, Scarlett Johansson
This romantic flick starring Bill Murray and Scarlett Johansson takes you to the ever-evolving and eventful city of Tokyo. The movie may focus on the love story between American actor Bob and newly single Charlotte, but it also shows off the incredible Japanese capital featuring city landmarks including Tokyo Tower and the Rainbow Bridge to Odaiba, as well as giving you a feel for the city as a whole.
Available on Netflix.
Out of Africa
Director: Sydney Pollack
Cast: Meryl Streep, Robert Redford, Klaus Maria Brandauer
This seven-time Oscar wining movie sees aristocratic Karen Blixen (Meryl Streep) move to Africa to join her husband, Bror (Klaus Maria Brandauer) who buys a coffee plantation behind her back. The main plot focuses on Karen's blossoming romance with a man from a humble background and the choice she has to make between him and her upper class lifestyle with her husband. However, the film takes us to through some breathtaking locations on the continent including the popular Masai Mara in Kenya, Ngong Hills and Tsavo East National Park.
Available on Netflix.
The Beach, 2000
Director: Danny Boyle
Cast: Leonardo DiCaprio, Robert Carlyle
Watch a young Leonardo DiCaprio as Richard, an adventures young man who heads to Thailand where he finds an unusual map which he later discovers is rumoured to lead to special Paradise Island. Naturally, he sets off to find it but not without convincing a few friends to accompany him. The movie is shot on the stunning Phi Phi Leh Island so expect to be virtually teleported to sun, sea and sand.
Available on Amazon Prime.
The Bucketlist, 2007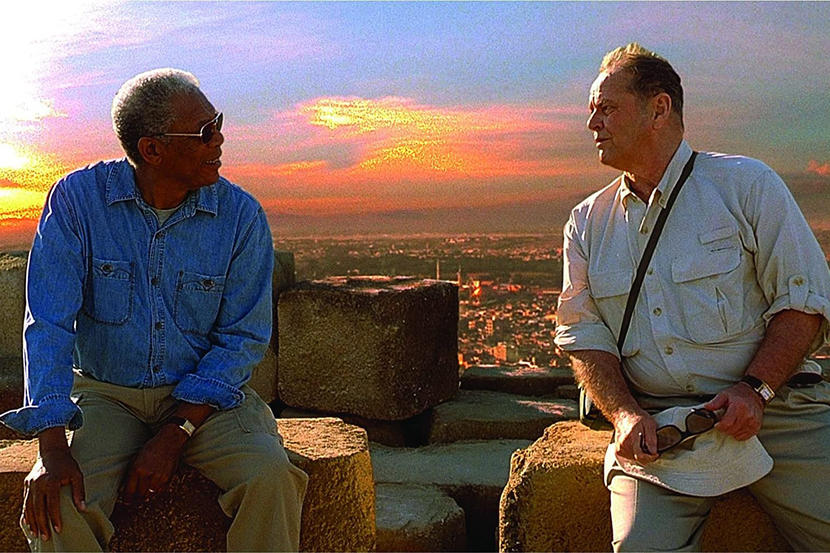 Director: Rob Reiner
Cast: Morgan Freeman, Jack Nicholson
Jack Nicholson and Morgan Freeman play alongside each other as Carte and Ed, two men who have been diagnosed with a terminal illness and have six months to live. To decide to make a bucket list to complete before the inevitable happens and have a blast making their way through it. Watch to be taken everywhere from the Taj Mahal and the Great Wall of China, to a lion safari in Tanzania and the Mount Everest base camp in Nepal.
Available on Netflix.
The Tourist, 2010
Director: Florian Henckel von Donnersmarck
Cast: Angelina Jolie, Johnny Depp
American tourist Frank (Johnny Depp) takes us to Italy where he plans on healing his broken heart. However things take an unexpected plan when he meets Elise (Angelina Jolie) on a train to Venice, as she convinces him that he is her lover who is wanted by the police. The romantic thriller will guide you through some of the most famous sights in Venice, from the Rialto Bridge to the Palazzo Pisani Moretta to name a few.
Available on Netflix.
Wild, 2014
Director: Jean-Marc Valée
Cast: Reese Witherspoon
Reese Witherspoon plays yet another strong woman in this movie about strength and resilience. This time, she's Cheryl Strayed, a new divorcee who embarks on a hike along the 1,100 mile-long Pacific Crest Trail. She takes us through some awe-striking natural landmarks as she embraces the great outdoors and discovers new depths of herself along the way.
Available on Netflix.
Be the first to get all the latest Sharjah news, reviews and deals into your inbox by signing up to our free
newsletter
,
click here to sign up
.